Entry | Module 1a — Become a consultant?
Wish or reality: Test your dreams and learn what consulting really is about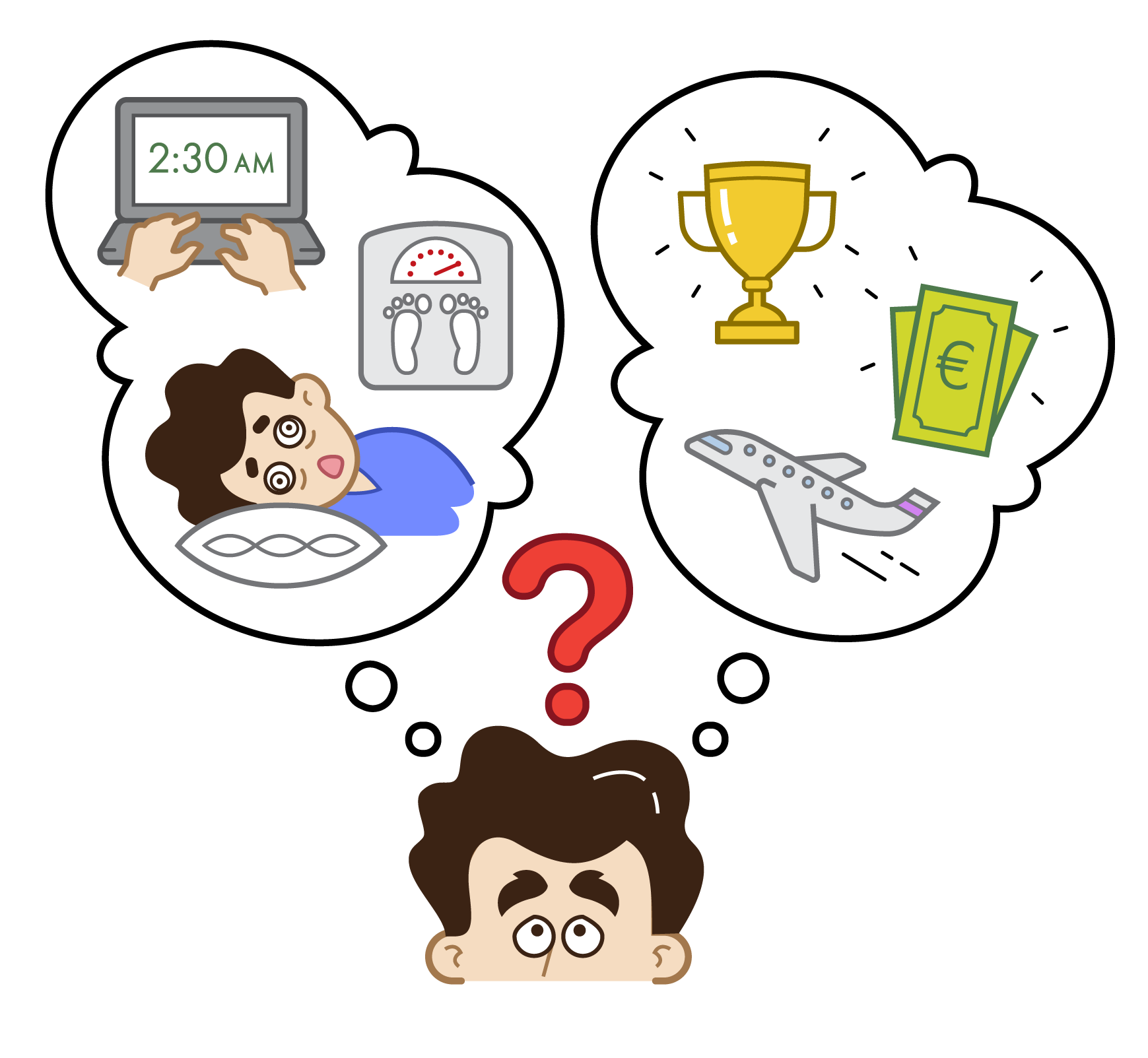 Contents designed for your success
Take the YOUinConsulting aptitude test (extended edition!), explore the myths around consulting life and find out if pursuing a consulting career consulting job will truly meet your very personal expectations
Learn about the tasks on which consulting firms and you deliver, the consulting market landscape and the mega trends shaking up the industry as well as their implications for your career
Understand your personal career path and emotionally (!) experience for yourself if consulting life is for you – can you withstand its perks and pitfalls?
… and much more!
Evaluate your interest in pursuing a consulting career by taking the YOUinConsulting aptitude test

Explore, debunk and validate the most common myths about dazzling consulting life that motivate you to take on a consulting job

Gain an understanding of the consulting industry's service offering and market landscape to decide where you want to play!

Understand the mega trends that are currently shaking up the consulting industry and how to leverage them to your benefit

Explore what your individual career path as a consultant may look like

Experience how everyday consulting life may play out for you from authentic and truthful project reports — with a twist!




1. WHOM IS THIS COURSE FOR?
This course is the right course for YOU if you are
- An undergraduate or postgraduate student who wants to explore or firmly pursues a management consulting career as your primary career option
- A young professional (i.e., with some initial work experience) who considers switching to a management consulting career
- A knowledge multiplier or intermediary who serves or frequently deals with consultants for professional reasons and benefits from gaining a deeper understanding of a consultant's life and challenges
2. WHAT'S IN IT FOR YOU
By completion of this course, you shall know whether or not a consulting career REALLY is the right fit for YOU. You will learn what consulting truly is about (beyond the hype) and understand how everyday consulting life may feel for YOU. Put in a nutshell, you will understand consulting and benefit from these insights for the rest of your consulting career.
You will receive authentic and truthful insights to the consulting industry, benefiting from my insider knowledge as a former McKinsey consultant, current independent management adviser and consulting industry expert. I have put my heart and soul into this course to make sure you do not only take the right decisions for yourself, but also feel entertained and have fun throughout this course...
See for yourself! ;-) This course is organized in three parts:
PART A: DECIDE IF YOU REALLY WANT TO BECOME A CONSULTANT
At the beginning of this course, I will ask you to take part in the complete version of the YOUinConsulting aptitude test and invite you to rank your personal motivation factors for becoming a consultant. For each of 24 consulting secrets, I will reveal for you if they are true or false, and ultimately you receive an individual test result telling you how well your dreams and expectations about a consulting career meet the reality of consulting life AND gain a lot of "behind-the-scenes" insider insights on the way.
PART B: UNDERSTAND WHAT CONSULTING IS ABOUT
In the second part, I offer you a throrough introduction to the consulting industry. I will start by laying out for you what consultants actually get hired for, what services consulting firms offer and how they organize it.
I share my opinion on key players in the consulting industry (tier one and tier two companies) as well as challengers (boutique consulting firms, inhouse consulting firms, smaller & medium-sized consulting firms), and will also devote special attention to the Big Four companies (Deloitte, PwC, EY and KPMG). You will be able to understand commonalities and differences across these players and get further ideas on attractive employers beyond McKinsey, BCG and Bain.
Furthermore, I reveal three megatrends to you that are currently shaking up the consulting industry and that you must be aware of – the earlier, the better. For each of these megatrends, I elaborate the implications for your own consulting career decisions.
PART C: GAIN TRANSPARENCY ON YOUR INDIVIDUAL CONSULTING CAREER AND LIFE
In the third part of this course, I return to the personal aspects of your consulting career.
First, I will help you explore the consulting career ladder steps you may take and help you understand the many roles you may adopt during your consulting career.
Second, I will invite you to take part in an exciting experiment – "consulting meditations", through which I want to enable you experience truthful consulting project reports and thereby the light and shadow of consulting life yourself.
And there is so much more... check it out ❤️
THE NEXT STEP
Once you have confirmed whether you want to become a consultant and have gained a more holistic understanding of the consulting industry, I invite you to improve your odds of landing a consultant job from early on. This is the objective of module 1b: "Become the irresistible candidate: Build your 'perfect' CV & get on the fast track into McKinsey, BCG or Bain".

Total course running time: ~3 1/2 hours